Romantic love could be nature's painkiller
Stanford, California - Being "head-over-heels" in love appears to have painkilling effects, discovered researchers at Stanford University.
In the study, 15 eager participants came prepared with a picture of their loved one. In one group, the pictures were flashed while volunteers held a thermal stimulator that was heated to cause pain. Participants in the other group were told to think of every sport that doesn't use a ball, a form of distraction, while scientists inflicted pain.
Results showed that love and distraction both reduced pain, but that they activated different systems of the brain. Distraction activated systems involved with attention and distraction while love activated systems involved with reward and craving.
"This tells us that you don't have to just rely on drugs for pain relief," said Arthur Aron, PhD, one of the study's authors. "People are feeling the intense rewards without the side effects of drugs."
How walking may protect your memory
Pittsburgh, Pennsylvania - Walking at least six miles a week may protect brain size, which in turn preserves memory, researchers from the University of Pittsburgh reported in Neurology.
"Brain size shrinks in late adulthood, which can cause memory problems. Our results should encourage well-designed trials of physical exercise in older adults as a promising approach for preventing dementia and Alzheimer's disease," said study author Kirk I. Erickson, Ph.D., with the University of Pittsburgh.
For the study, 299 dementia-free people tracked how far they walked in a week. After nine years, their brains were scanned to measure size. Four years after that, they were tested for cognitive (mental) impairment and dementia.
Scientists found that those who walked six to nine miles per week had greater gray matter volume and cut their risk of developing memory problems in half, compared to those who didn't walk as much.
The relationship between sleep and dieting success
Chicago, Illinois - Inadequate sleep reduces the benefits of dieting, it was reported in the Annals of Internal Medicine.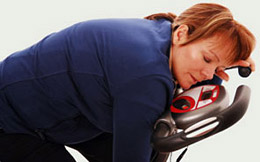 "If your goal is to lose fat, skipping sleep is like poking sticks in your bicycle wheels," said study director Plamen Penev, assistant professor of medicine at the University of Chicago. "Cutting back on sleep, a behavior that is ubiquitous in modern society, appears to compromise efforts to lose fat through dieting. In our study, it reduced fat loss by 55 percent."
In addition to losing less fat, dieters with inadequate sleep (in this study, 5.5 hours or less) also experienced an increase in ghrelin, a hormone that stimulates the appetite.